The 
Demon Captain
is the captain of a fishing vessel that 
Robot Girls Team Z
 were sent to.
Appearance
Edit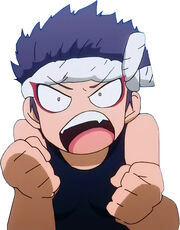 The Demon Captain is young and well built woman with semi-spiked purple hair worn with a white rope. She has thin eyebrows with light green eyes and red eyeliner. Her clothes consist of a navy top that exposes her stomach, navy pants, and black boots.
Personality
Edit
The Demon Captain is a tough and bossy character who expects discipline and hard work from her underlings, and is not afraid to get into others faces to do so. But she is also friendly, pointing the way to the restrooms when Gre-chan had sea sickness.
The Demon Captain commanded her crew to get tuna along with Team Z. When some of her sailors reeled in an urchin and a giant seahorse, the captain readied to have them for meals before they revealed themselves to be Mechanical Beast Girls. When the Robot Girls fought them, the captain and her crew assisted when they were knocked in the water with a net to restrain the Mechanical Beasts. With their enemies beaten, the captain and her crew joined for a group picture as the Bood exploded. At night the Demon Captain had her crew fish for squid. Afterwards the Demon Captain would often appear in cameos along with one of her crewmates such as at Lorelai Yoko's hot spring resort.
Ad blocker interference detected!
Wikia is a free-to-use site that makes money from advertising. We have a modified experience for viewers using ad blockers

Wikia is not accessible if you've made further modifications. Remove the custom ad blocker rule(s) and the page will load as expected.