Devila X1

Stats

Composition
Super Steel
Power Source
Atomic Energy
Pilot
Limited AI
Devila X1
is a
Mechanical Beast
 monster of the week for episode 19 of the
Mazinger Z anime
.
Appearance
Edit
Devila X1 is a demonic humanoid Mechanical Beast mainly colored blue and red. The chest and forearms are colored a lighter shade of blue. Red wings are attached to the arms while smaller wings are on the head of the Mechanical Beast. The abdomen contains a hidden compartment that holds a camera.
Abilities and Equipment
Edit
Devila X1 is capable of flight through its wings and can conceal itself in a cloud if needed. The abdomen contains an x-ray camera that allows it to detect enemies whether Devila or its enemy are hidden. Its eyes can release purple lightning bolts for offense. For defense it features beam-resistant armor making attacks like the Koshiryoku Beam useless.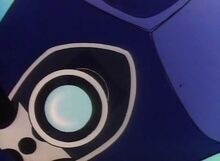 Ad blocker interference detected!
Wikia is a free-to-use site that makes money from advertising. We have a modified experience for viewers using ad blockers

Wikia is not accessible if you've made further modifications. Remove the custom ad blocker rule(s) and the page will load as expected.