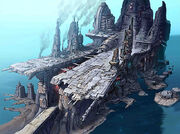 The
Kiba Army
is an army of convicts lead by
Kiba
. Compared to the
Garan Army
and the
Hachiryokaku
, the Kiba Army is much more vicious and marauding style in its approach in controlling Machine Island, planning to take the women in the Hachiryokaku for sensual purposes and using a variety of close combat weapons. The robot part of the army is composed of the
GRK-7
 and
DBM-2
. Women are also seen in the army's base as exotic dancers and are presumed to be former captives of the Hachiryokaku turned to Kiba. They are based in a damaged aircraft. When Kiba was defeated in battle and their base powered down, the army was scattered and later disbanded.
Ad blocker interference detected!
Wikia is a free-to-use site that makes money from advertising. We have a modified experience for viewers using ad blockers

Wikia is not accessible if you've made further modifications. Remove the custom ad blocker rule(s) and the page will load as expected.