Mazinger Z is the original giant robot of Koji Kabuto in the Mazinkaiser OVA before it was stolen by Baron Ashura and was remodeled into a weapon against the Photon Power Laboratory known as the Ashura Mazinger.
Appearance
Edit
As the Mazinger Z, the robot resembles it's original manga counterpart with the forearms and feet colored black instead of blue like in the original anime. As the Ashura Mazinger, the robot is given a redecorated appearance with circular bolts all around the body and braces as the Mazinger Z was still damaged from its capture, green eyes are painted on the heat sinks, the Z has multiple spikes and bolts, and the left eye is broken so the Beam only fires from the right eye.
Equipment
Edit
Hover Pilder
Edit
A hovercraft-like command center for the Mazinger Z. It was colored white like in the first stages of the original Mazinger Z manga instead of red. It also had a pre-programmed feature to go to the secret laboratory that held the Mazinkaiser.
Ashura's Vehicle
Edit
After becoming the Ashura Mazinger, Baron Ashura incorporated the hovering vehicle it uses as the Pilder with it and its subordinates controlling the robot.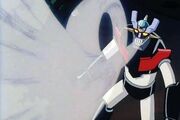 Much like the original Mazinger Z, the Kaiser version is capable of the signature attacks of the robot such as: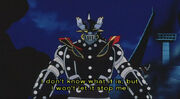 In a fight with Dr. Hell's Mechanical Beasts, the Mazinger Z and its allies were able to destroy and subdue several until the robot was overpowered by reinforcements. The Hover Pilder ejected and Koji was flown off into the distance. Baron Ashura brought the robot to Dr. Hell, where it was modified to work with Ashura and its Iron Masks. Ashura used the newly designed robot to attack the Photon Power Laboratory, managing to overpower the still damaged Great Mazinger and take out the lab's defenses. Before doing any further damage, the Mazinkaiser arrived, able to easily withstand the robot's attack and overpower it. Baron Ashura managed to escape leaving the Ashura Mazinger behind. What happened to the Mazinger afterwards is unknown, but it can be assumed it was put into storage to be repaired and remove any of Dr. Hell's modifications.
Ad blocker interference detected!
Wikia is a free-to-use site that makes money from advertising. We have a modified experience for viewers using ad blockers

Wikia is not accessible if you've made further modifications. Remove the custom ad blocker rule(s) and the page will load as expected.