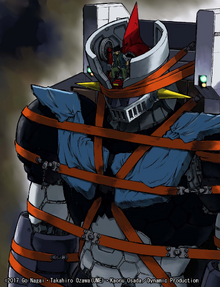 Mazinger Z Interval Peace is a manga spin-off of the 2017 anime movie, Mazinger Z: Infinity. It debuted in the June 2017 issue of Monthly Young Magazine. The manga's scenario is drawn by Takahiro Ozawa while artwork is drawn by Kaoru Osada. Compared to some of its contemporaries, the series is a 'youthful group drama', following the pilots conflicts rather than the robots.[1] The series ended on the October 20, 2017.[2]
The manga takes place in a world where the use of Super Robots is questioned. Koji is a former pilot with his companions faced with both personal and outer conflicts. They were once heroes but peace was achieved, bringing their robot's use into question. Can this peace even last and can it even lead to true peace...?
References
Edit
Ad blocker interference detected!
Wikia is a free-to-use site that makes money from advertising. We have a modified experience for viewers using ad blockers

Wikia is not accessible if you've made further modifications. Remove the custom ad blocker rule(s) and the page will load as expected.