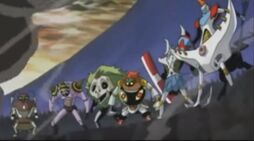 The
Warrior Beasts
are the main force of the
Mycenae Empire
military force. They are separated into seven armies, each lead by one of the Seven Generals.
The Warrior Beasts are gigantic cyborgs featuring human-esque real faces along their more strangely formed bodies, that hold their brains. Each are outfitted with weapons and themed after one of the seven armies.
Seven Armies
Edit
The seven armies are separated into armies lead by a general: Superhuman (Julicaesar), Insect (Scarabeth), Aquatic (Angoras), Aerial (Birdler), Reptilian (Draydou), Mammalian (Ligern), and Spectral (Hadias).
List of Warrior Beasts
Edit
Opening Sequence
Edit
Ad blocker interference detected!
Wikia is a free-to-use site that makes money from advertising. We have a modified experience for viewers using ad blockers

Wikia is not accessible if you've made further modifications. Remove the custom ad blocker rule(s) and the page will load as expected.